THE COOLEST LUNCH BOX AND BOTTLE COMBO!
Black + Blum Stainless Steel Lunch Set includes a 1 litre lunch box and a 500 ml vacuum insulated bottle. Both products are high quality stainless steel and 100% leakproof. This is the perfect gift set for people who want the best food and drink on-the-go experience.
Black + Blum Stainless Steel Lunch Box
A 1 litre / 34 fl oz stainless steel lunch box that is the first 100% leakproof one on the market due to having a secure vacuum-sealed closure.
PRODUCT FEATURES
100% leakproof.
Oven and freezer safe.
Includes fork and adjustable internal divider.
Plastic free.
High quality stainless steel.
PRODUCT SPECIFICATIONS
COLOUR – Ocean
MATERIALS – Stainless steel (304/18-8), including a silicone strap, a stainless steel fork and slider-divider to separate foods.
DIMENSIONS (LxWxH) –  20cm x 15cm x 6.5cm /  7.87″ x 5.91″ x 2.56″
WEIGHT – 460g/1Lbs
CAPACITY – 1L / 34 fl oz
Black + Blum Stainless Steel Insulated Water Bottle
A 500 ml / 17 fl oz vacuum insulated bottle that will keep your drinks cold for 24 hours or hot for 12 hours. It has a wide opening for easy pouring/cleaning.
PRODUCT FEATURES
100% leakproof.
Thread on inside of lid for smooth drinking.
High quality stainless steel.
Vegan leather strap attached to lid.
BPA free.
PRODUCT SPECIFICATIONS
COLOUR 

– Ocean
MATERIALS – Stainless Steel, Silicone and Artificial Leather
DIMENSIONS  -D7.3cm H23.5cm / D2.8″ H9″
WEIGHT – 280g / 0.6lbs
CAPACITY – 500 ml / 17 fl oz
Not microwave or dishwasher safe
Black+Blum Stainless Steel Lunch Box
Black+Blum Stainless Steel Insulated Water Bottle
LEAK FREE DESIGN
A valve on the top means extra security and risk-free, leak proof functionality. Lift the valve to open and push down to securely close.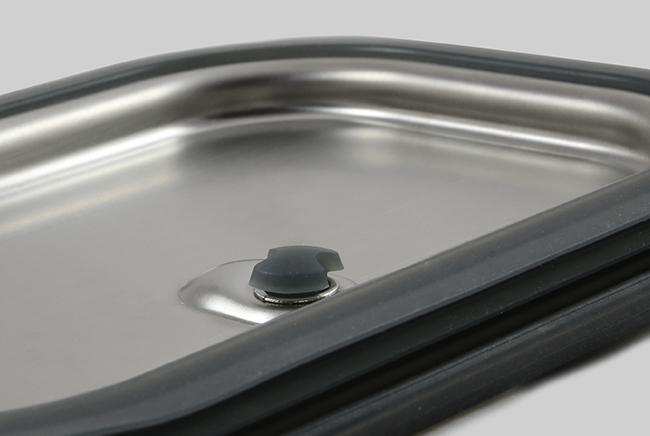 HIGH QUALITY VACUUM
Will keep your drinks ice cold for 24 hours (or hot for 12 hours). The vacuum insulation also means your bottle won't sweat if filled with cold drinks, so there won't be any condensation on the outside of the bottle.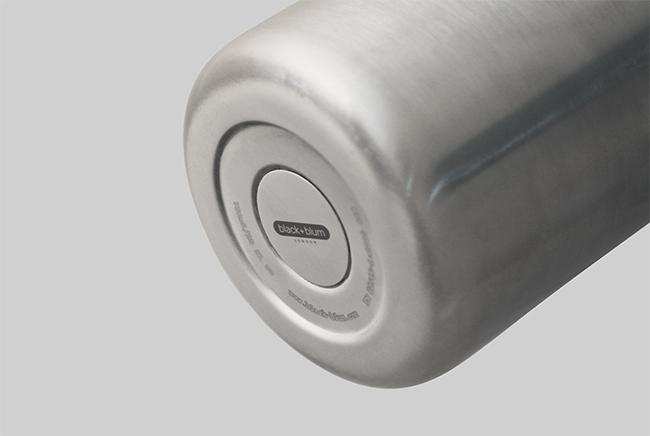 LEAK PROOF LID
The stainless steel lunch box lid is specially designed with over-moulded silicone to be leak proof and easy to clean.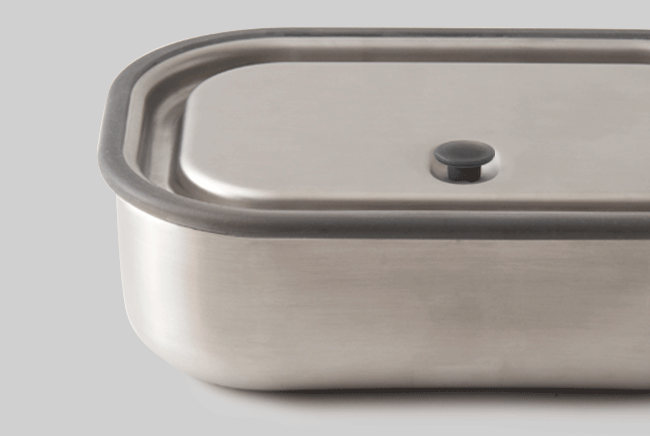 STAINLESS STEEL TOP
The all Stainless steel top is built to last and ensures that your water is only in contact with high quality stainless steel (and food grade silicone at the seal).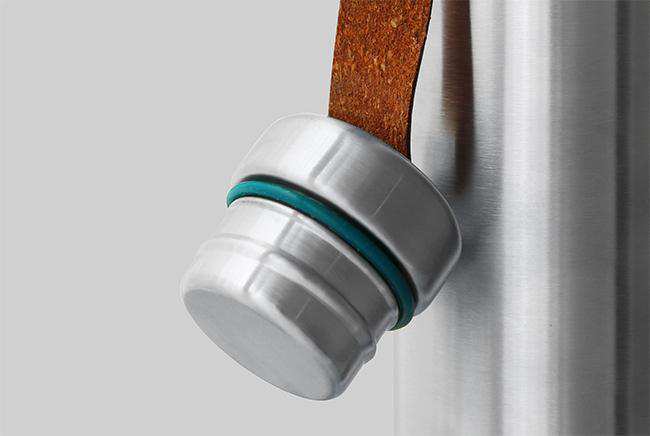 SILICONE STRAP & FORK
The stainless steel fork is simply and securely held by the silicone strap. The strap gives added reassurance that the lid cannot open unintentionally.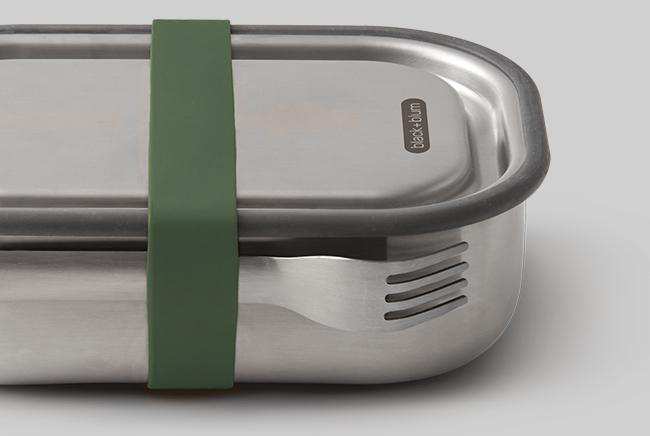 TOP RETAINER STRAP
The artificial leather strap is a great way to make sure you never lose your top again.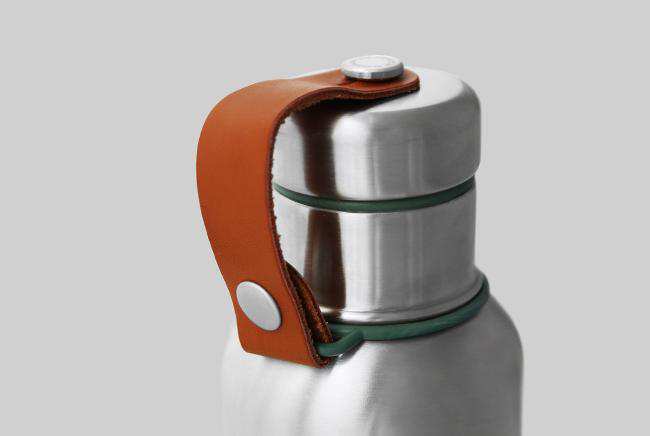 SLIDER/DIVIDER INCLUDED
The removable slider/divider allows you to organise and separate your foods with ease.
EXTRA WIDE SPOUT
The wide spout makes it easy to load with ice cubes (or even one of our charcoal filters) and easy to clean inside the bottle. The soft, rolled edge of the steel rim and thread on the inside, make it a pleasure to drink from. The large stopper is easy to open and close with a secure watertight seal.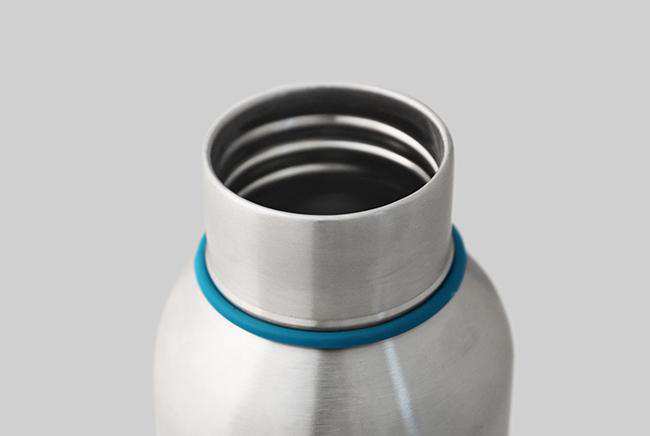 A WORD FROM THE DESIGNER
We wanted to create the world's first all stainless steel fully leak-proof lunch box. When we started work on this design, there were other stainless steel lunch boxes on the market, but none of them were truly leakproof. It was an extremely challenging to make it leakproof, while still keeping the design minimal. The end design might look simple, but it took many iterations to perfect. The slider/divider also went through many different iterations to perfect, but makes it easy to separate your foods. Very frustratingly, this divider design has been copied by many other stainless steel lunch box brands since we launched ours, but if you do see them, you'll know that ours was the original. The functional design is timeless in aesthetic and has an almost retro military/utilitarian look. In essence it is an engineered steel box, but the carefully considered radiuses give it a softer ergonomic appeal. The silicone band holds the fork, give it a colour accent and is also a design reference nod to traditional Japanese Bento box designs. The end result is an iconic design that will age well and is a pleasure to carry your food in and eat from.
We put our hearts and souls into designing all our products, so it is it lovely to see this being recognised and appreciated in external reviews. Our stainless steel lunch box design was chosen as the 'Best reusable lunch boxes for adults of 2020' by the Evening Standard.. and also by the Independent in their '8 best reusable lunchboxes that will help you reduce waste'. That's two # 1 votes in two months by two completely independent reviews.
A WORD FROM THE DESIGNER
We wanted to create a no-nonsense bottle that would stand the test of time. The bottle has a retro-modern feel and the brushed steel is complimented by the faux leather strap. Unlike most water bottles on the market, our design has only a hint of colour through the silicone seal and ring to hold the strap. We did this on purpose to consciously try to not make it a fashion item, but more a utility possession that is appreciated and enjoyed because of its practicality. The bottle might scratch, dent or develop patina from handling, but this will only adds to the charm and value of the design.