KEEP FOOD HOT OR COLD FOR HOURS ON-THE-GO!
Black + Blum's bestselling Food Flask has been updated to be even better!
They have added a stainless steel underside to the lid meaning that food has no contact with any plastic. The ladle spoon now includes sustainably sourced wood fibre and the product is now packaged in a gift box. The flask is vacuum-sealed to keep food hot for up to 6 hours and cold for up to 8 hours. Great for healthy eating on the go.
This perfectly compact insulated food flask is ideal for keeping your soups, casseroles and stews hot or fruit salads, gazpacho and ice cream cold.
This food flask is flawlessly designed, as you would expect with black+blum products. It comes with an ergonomic spoon made from wood fibre that makes eating from the flask easy. The spoon is securely attached to the container body with an elastic strap.


PRODUCT FEATURES
100% leakproof.
Natural wood fibre spoon included.
Full steel food contact.
Elastic & machine-washable nylon strap.
High quality stainless steel.
BPA free.
Box packaging perfect for gifting
PRODUCT SPECIFICATIONS
COLOURS – Orange, Olive, Ocean
MATERIALS –304 stainless steel body, polypropylene (BPA free) + wood fibre, silicone & nylon
WEIGHT– 350g/0.77Lbs
DIMENSIONS – W 8.7cm H115.5cm / W 3.1″ H 6.1″
CAPACITY – 400 ml / 13.5 fl oz
Keeps food hot up to 6 hrs & cold up to 8 hrs
Not microwave or dishwasher safe
KEEPS FOOD HOT (OR COLD)
The high quality vacuum stainless steel will keep your food piping hot for up to 6 hours or cold for up to 8 hours.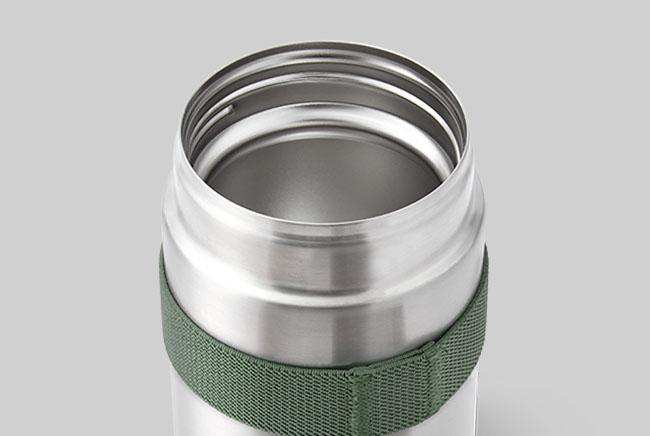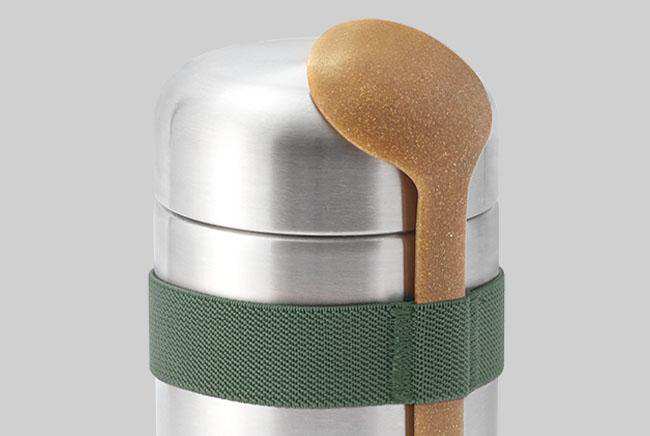 ECO LADLE SPOON & ELASTIC STRAP
Made from 20% natural wood fibre, the ergonomic spoon fits snuggly against the body, secured by an elastic and machine-washable strap.
FULL STEEL FOOD CONTACT
A stainless steel surface on the underside of the lid ensures that food is not coming into direct contact with any plastic.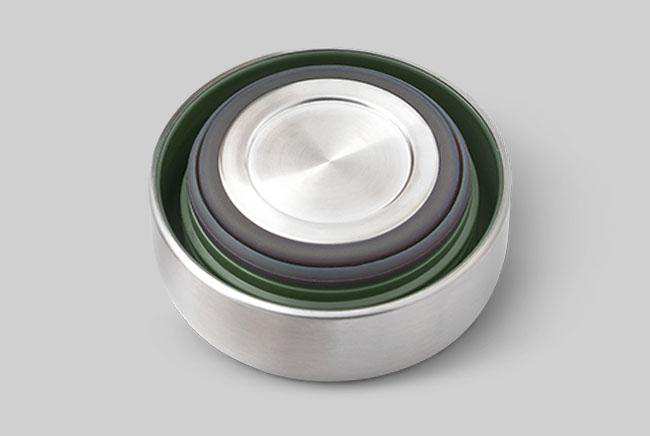 A WORD FROM THE DESIGNER
The compact pod-like shape is modern and minimal, designed specifically for easy on-the-go eating. It is 100% leak proof and the size chosen is perfect for both children and adults. The brushed stainless steel is complimented by the textile elastic strap that neatly holds the natural wood fibre ladle spoon securely to the body. The spoon form is inspired by Asian soup spoons, which can reach inside the entire container, providing a better eating experience. This is functional design at its peak that will only improve with age and use. It might get scratched and dented, but this will only add to the charm and character of the product.