PERFECT CAPTURES WITH YOUR SMARTPHONE!
Whether influencer, blogger or vlogger – professional photo and videography with the smartphone for social media also works without high-end equipment. With this  LED ring light, you can always show your best side thanks to the perfect and multi-adjustable illumination.
From warm white to bright daylight: control of the color temperature in 3 stages (3000/4500/6000 K) using the cable remote control, for optimal and even illumination of videos and portraits, for example

From brilliantly bright to pleasantly dimmed: light intensity adjustable in 10 levels

Sparkling charming eye effect: LED ring light uses reflections to conjure up a glow in the eyes

Studio smartphone photography: stable tripod made of robust and light aluminium, with fully expandable tripod legs

Aim high: 3 times extendable up to 215 cm perfect for larger scenarios or to be photographed while sitting or standing

Always the perfect shooting position: portrait and landscape format thanks to the smartphone holder with ball head and flexible gooseneck

Extraordinary shooting angles: the ring light position can be adjusted in all directions with the ball head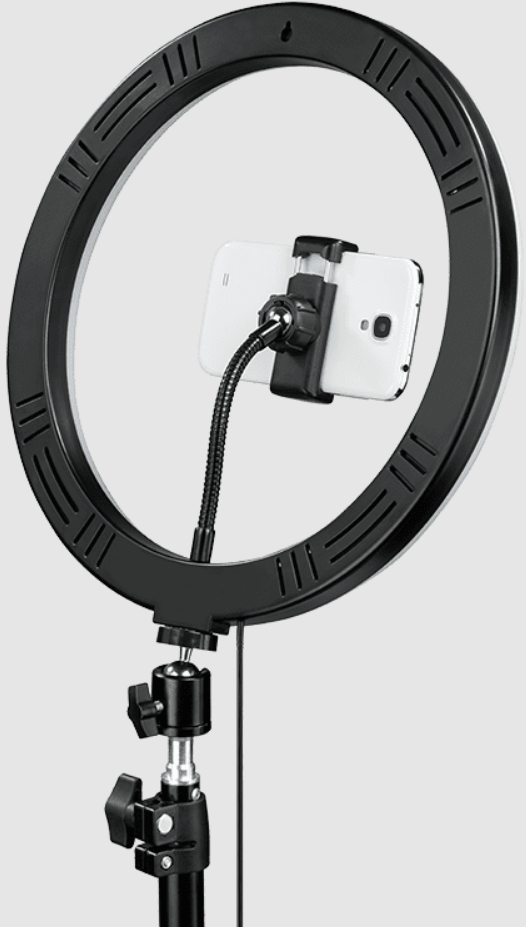 With little effort to professional pictures and videos
DIY video with the best tips for repairing a bicycle tube – unfortunately the user does not recognize the essential areas due to insufficient lighting. The girls in your makeup community are applying the highlighter all wrong because it's hard to see on the video. You wouldn't want to do that to your community, would you? Our LED ring light perfectly illuminates face, subject and scene. The smartphone is attached to a holder in the middle of the light ring: This ensures perfect, even illumination directly on the recording device itself and prevents shadows from forming. The smartphone holder is equipped with rubber inserts so that the smartphone is protected from scratches.
Radiant portraits and fashion looks in studio quality
With an LED ring lamp, you can create professional portraits and videos despite the low-budget purchase. Especially with close-ups on the subject of make-up, hair, fashion and cooking, no disturbing shadows should cover the performance. The ring light provides a light source that impresses with studio lighting par excellence. 162 LEDs provide the shadow-free, radiant kick of light – whether pure illumination or a more twilight effect can be set using the 10 brightness levels.
In addition, three light colors are available:
With 6000K you illuminate perfectly technical recordings such as workshop or repair scenes.

4500K creates a neutral mood ideal for cooking videos and fashion photography.

The color temperature of 3000K brings out the best in cozy interior shots, for example.
Particularly practical: You don't have to get up every time and set the desired lighting effect on the LED ring light yourself or on your smartphone, you can do this conveniently using the remote control integrated in the cable. In this way, you can test directly in action which light you present yourself in the most impressive way.

The size is what matters:
Ring light with stand extendable up to 215 cm
Fashion hauls with the latest fashion achievements or dance choreo for TikTok – only true greatness leads to video success. That's why our LED ring light can be extended three times up to 215 cm. Thus, the community gets a perfect result even with your pictures and videos while standing. They are the inspiration for styles and moves, which are shown in the best light. Depending on which of your many chocolate sides you want to showcase, you decide which of the three pull-out steps is the right height for your performance. Thanks to the tripod, the ring light is absolutely stable even when fully extended.
Versatile and flexible for the best video or photo ever
From workshop tinkering to make-up tutorials to YouTube cooking courses – you can put your scenery in the right light with almost any smartphone. Any mobile phone with a width of 6 to 8.2 cm can be fixed in the clamp spring holder. You decide for yourself whether you prefer to attach the cell phone in portrait or landscape format. Garage scenes usually look best in landscape orientation, while Snapchat, Instagram, and TikTok look best in portrait orientation.
With the 3D ball head, the LED ring lamp can be adjusted in all directions. The gooseneck on the mobile phone holder can also be flexibly adjusted. Both help you to remain flexible during the shoot or without having to constantly change the position of the tripod. Just get creative and try out unusual shooting angles. This is not only fun for you, but also for your community.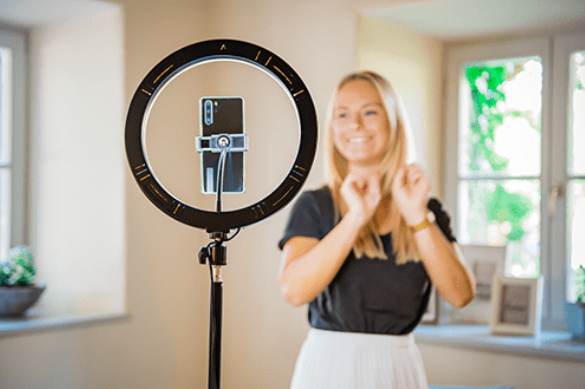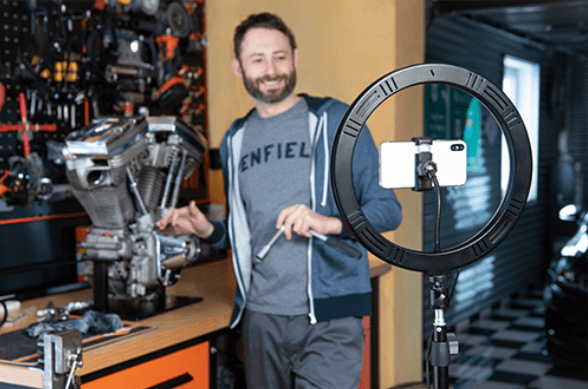 Even more flexibility with the Bluetooth remote shutter release
You dressed the bridesmaids for your best friend's wedding with your excellent fashion feeling and want to capture this look on your blog at the wedding? With the remote release function of the mobile phone, pictures are also created, but they are of a rather comical nature and are not intended as a flagship for your blog. With the smartphone ring light, a Bluetooth remote shutter release is also available for the exact moment. Whether it's a selfie or a group photo – it clicks at the right time.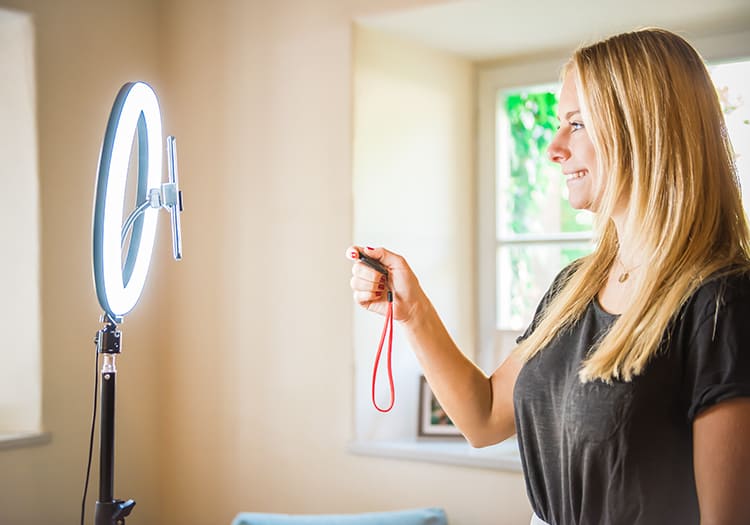 Compact and portable to any location
What happens if you want to use the studio quality of the ring light outside of your own four walls? Then simply fold the tripod together, pack it in the transport bag included in the scope of delivery and take it to the location.
From A to B: the power remains
No electricity at the location? It would be a shame about the most beautiful summer dresses or the cosiest winter looks. A power pack can be connected to the USB-A cable – whether city or nature shots, the energy of the LED ring light will not let you down.
Technical characteristics
Creation (color, design, motif, series)

| | |
| --- | --- |
| colour | black |
| LED color | Blue, orange, white |
| product area | cellphone/smartphone |
Electro-specific properties

| | |
| --- | --- |
| Energy Efficiency Label (A to G) | G |
Physical Properties

| | |
| --- | --- |
| execution | smartphone |
| Dimmable function | 10 levels |
| LED count | 162 |
| Max Lumens | 1200 |
| gooseneck length | 12 cm |
Dimension & Weight

| | |
| --- | --- |
| broad | 30 cm |
| Weight | 1580g |
| cable length | 290 cm |
Energy

| | |
| --- | --- |
| External power supply | USB 5V/1.7A |
| power supply | External power supply |
More product information
Perfectly illuminated: whether beauty, fashion, cooking or DIY – create perfect lighting conditions for smartphone photos and videos on YouTube, Twitch, Instagram and Co. with the LED ring light
Ring light with 12″ (outer diameter 30 cm) and 162 LEDs
For many smartphones: extremely flexible for a smartphone width of 6.0 to 8.2 cm (in landscape format) thanks to the clamp spring holder
Smartphone protection: rubber inserts on the holder protect the smartphone housing from scratches
Full charge: With USB -A cable (cable length 290 cm) for connection to a power pack, so that you never run out of juice on the go
Transportable: the tripod can be folded up to a small pack size and easily carried from A to B in the transport bag
Keyhole hanger for wall mounting
with Bluetooth remote shutter release
Scope of delivery
1 "SpotLight Steady 120" LED ring light
1 light stand
1 Bluetooth remote trigger (incl. 1 button cell CR2032, 1 wrist strap)
1 gooseneck
1 ball head
1 transport bag
1 instruction manual
Consumer notice
The function of the Bluetooth trigger depends on the software of your end device.
To find out whether the remote shutter release is supported by your smartphone, please refer to the product information of the respective manufacturer or find out more on the Internet.