Fresh 'n Rebel Twins 3 With Wireless Charging
Fresh'n Rebel Twins 3 True Wireless Earbuds enables noise-free phone calls thanks to the advanced microphones with Environmental Noise Cancellation (ENC).
ENC ensures that surrounding sounds are suppressed during phone calls. This makes your voice and therefore your phone and video calls more clear.

Fresh'n Rebel Twins 3 True Wireless Earbuds wirelessly connects your Twins 3 to your device and listen without any cables. That's why True Wireless is truly wireless.
Enjoy the bright sound and deep bass of the Twins 3 True Wireless earbuds thanks to the 13 mm dynamic drivers. These earbuds will make your favourite sound sound even better.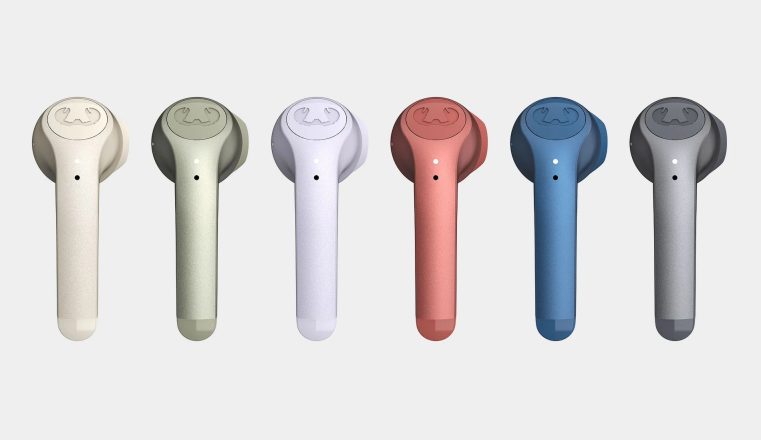 Tap the earbuds to control your music and phone calls really easily. No need to take your phone out of your pocket or bag; all you need are your Twins 3. The charging box of the Twins 3 supports wireless charging. You can place it on a Qi compatible charging pad and charge it within just 2 hours. Prefer wired charging? Use the included USB-C cable to charge it in the same time. Automatically pause or resume music and calls by taking out the earbuds. The in-ear sensors will notice when you do, so as soon as you take the earbuds out, playback wil stop. When you put them back in, it continues.
When you take the earbuds out of their charging box, they automatically connect to your device. When you put them back into the charging box, the connection stops and they turn off. The Twins 3 have a total playtime of 27 hours and a playtime of 6 hours per single charge. You can charge the earbuds inside the charging case within just 1.5 hours.
Both of the earbuds have a built-in microphone, which makes it possible to use the Twins 3 not only as a pair, but also individually. Use just the right or the left earbud or both of them for stereo sound. You can use these True Wireless earbuds in any situation, because they are splash waterproof (IPX4). You can use them during your workout or on a rainy day, because they are resistant to rain and sweat. The Twins 3 True Wireless earbuds support the use of a voice assistant. Depending on your device, you can activate Siri or Google Assistant on your phone with the earbuds.