EXTRA SPACE FOR YOUR NEXT CAMPSITE!
Ideal for smaller families or couples that desire extra space on the campsite or at the festival, the Kobuk Valley 4 Plus is a large, 4-person dome tent with the added benefits of a large porch and innovative BlackOut Bedrooms so you won't wake at first light.
Quick and easy to set up thanks to its simple yet stable, dome construction, the Kobuk Valley 4 Plus can be quickly and easily erected in minutes. A peaked porch pole helps optimise internal head height and the comfortable tent boasts a large porch complete with PVC windows, ideal for storing gear or muddy boots. Coleman's innovative BlackOut Bedroom offers a dark and temperate place to enjoy a good night's sleep. 
The Kobuk Valley 4 Plus features a high-performance flysheet with a hydrostatic head rating of 4500mm. Light yet strong, fibreglass poles are wind responsive and ventilation openings help ensure good airflow throughout the tent, helping to reduce condensation. A riser PE groundsheet in the porch and fully integrated bedroom groundsheet ensures clean, dry and bug-free camping.
Offering SPF 50 protection from the sun's rays, the Kobuk Valley 3 Plus is treated with Coleman's UVGuard™ technology. For added peace of mind, all fabrics are fire retardant.
Product Specifications
Capacity: 4 person
Rooms: 1
Set up: Inner first
Structure: Dome
Poles: Fibreglass
Groundsheet: PE removable (Living). PE, welded, fully integrated (Bedroom)
Outer fabric: Polyester PU coated/Fire retardant
Inner fabric: Breathable Polyester, Polyester PU coated, No-see-um mesh
Seams: Taped seams
Carry bag (polyester): Included
Pack size: 58 x 20 x 19 cm
Weight: 6.6 kg
Water column: 4500mm
BLACKOUT BEDROOM® – blocks daylight
Coleman® patent pending BlackOut Bedroom® is a revolutionary new sleep system for campers.Ideal for parents or anyone who is sensitive to daylight.Our patent pending technology blocks up to 99%* of daylight penetrating the bedroom – helping you get a longer, more restful sleep!
*based on Coleman® light and measurement testing reports
Fibreglass poles
Highly flexible and lightweight fibreglass poles guarantee a good response to wind and storms.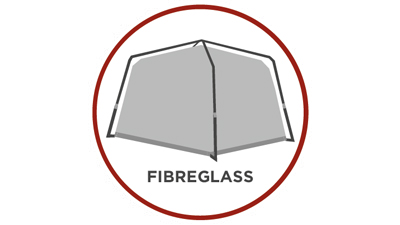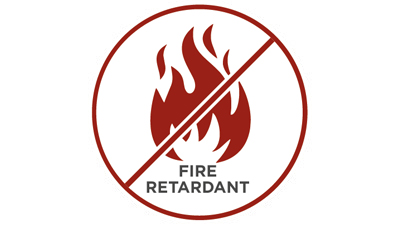 Fire Retardant – safety first
The fire retardant characteristic of our material ensures that the fabric will not flare dangerously out of control and will self-extinguishing, giving time to escape in the event of an emergency.
UV Guard™ Sun Protection
Certified laboratory testing proves Coleman® UVGuard™ protection fabrics with an SPF50 provide excellent protection against the sun's ultraviolet rays.  Proper use of sunscreen combined with shelters made with UVGuard™ protection fabric can go a long way in the battle against sunburn and UV exposure.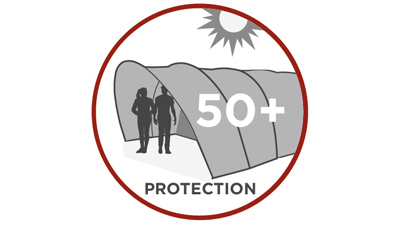 WeatherTec™ – offering comfort and protection when enjoying the outdoors
A fabric's waterproof properties are measured using a rating called its hydrostatic head. If a tent has a hydrostatic head of 3000mm it means that a 3 metre column of water can be placed on its surface before any drops will show through the underside of the fabric.
(The Ministry of Defence in the UK classifies fabric with a hydrostatic head of 800mm+ as waterproof).
There are many other factors which influence the performance of tent in tough weather conditions. Coleman use the latest technology and a rigorous testing regime to ensure that we keep you protected at all times – whatever the weather.