ENOUGH SPACE TO STAY COMFORTABLY ON YOUR NEXT CAMPSITE!
The party continues in the Coleman® Festival Octagon Tent: With tons of space inside (for max. 8 persons), full head height throughout the entire tent and an unusual and striking shape, the Octagon offers you everything you need. 
Plenty of space to keep the party going in bad weather or enough space to sleep comfortably and stow bags, backpacks and a table! The unusual octagonal shape ensures you can use every corner of the tent. 
The patented D door can be opened like a normal door and makes entering and exiting the tent not only particularly easy, but also very comfortable. Of course, the festival tent is completely watertight and protects you and your equipment when the weather isn't great. 
In good weather, you can open the entire outer shell of the tent for a 360° view of the festival grounds. Thanks to the stable steel frame, the tent is very robust and can withstand the elements.
Product Specifications
Capacity: 8 person
Rooms: 1
Set up: Inner first
Structure: Octagon
Poles: Fibreglass & Steel
Groundsheet: PE, welded, fully integrated, Outer fabric Polyester PU coated/Fire retardant
Inner fabric: Polyester, No-see-um mesh
Seams: Taped seams
Carry bag: Included
Pack size: 85 x 30 x 30 cm
Weight: 20.7 kg
Water column: 2000mm
Total area: 15.7 m2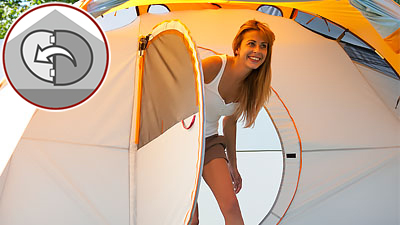 HINGED DOOR – quick and easy to come and go
The patented Hinge Door from Coleman® makes it quick and easy to come and go from your tent. The rigid door and door frame increases the tents structural integrity making it feel more like a home away from home.
Ideal for family and group camping, you can close the tent door without needing to zip it, making your tent and belongings more accessible without having everything on display or needing to continually use noisy zippers when coming or going.
Steel Poles
Steel poles are very sturdy and hardwearing, offering increased strength for large structures.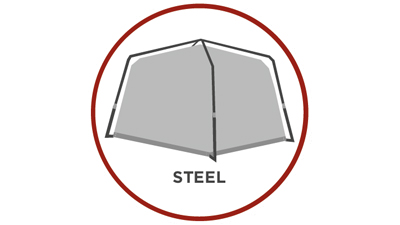 WeatherTec™ – offering comfort and protection when enjoying the outdoors
A fabric's waterproof properties are measured using a rating called its hydrostatic head. If a tent has a hydrostatic head of 3000mm it means that a 3 metre column of water can be placed on its surface before any drops will show through the underside of the fabric.(The Ministry of Defence in the UK classifies fabric with a hydrostatic head of 800mm+ as waterproof).There are many other factors which influence the performance of tent in tough weather conditions. Coleman use the latest technology and a rigorous testing regime to ensure that we keep you protected at all times – whatever the weather.
Fire Retardant – safety first
The fire retardant characteristic of our material ensures that the fabric will not flare dangerously out of control and will selfextinguish, giving time to escape in the event of an emergency.