CARRY YOUR LUNCH IN STYLE!
The Black + Blum Glass Lunch Pot is made of temperature-resistant borosilicate glass with a silicone lid. It is protected by a cover made of polypropylene and 30% sustainable PEFC wood fibre and a lid made of high-quality stainless steel. The bowl features a non-slip silicone sleeve on the bottom. It is completely leak-proof and dishwasher-safe (preferably wash in the top compartment).
The lunch bowl is for the microwave (except for the stainless steel lid). Lift the silicone lid slightly and push the tab into the edge of the glass bowl. This creates a small gap and ensures that the lid is not sucked into the bowl during the heating process. The wood fibre base does not get hot.
PRODUCT FEATURES
100% leakproof.
Microwave safe, including wood fibre base for easy handling when hot (*not Stainless steel lid).
Oven safe glass and silicone lid (*not wood fibre base).
Dishwasher safe.
Freezer safe.
BPA free.
PRODUCT SPECIFICATIONS
COLOURS – Almond, Slate
MATERIALS – Glass, stainless steel, polypropylene with wood fibre and silicone.
CAPACITY – 750 ml/25 floz
WEIGHT– 440g/0.97Lbs
DIMENSIONS – 14cm x 14cm x 8cm / 5.51in x 5.51in x 3.15in
Dishwasher safe
Microwave safe(*not Stainless steel lid)
Freezer safe
SPLATTER FREE MICROWAVING
The silicone lid has a clever air release flap so it can be kept on the glass during microwaving/oven heating and avoid food splattering.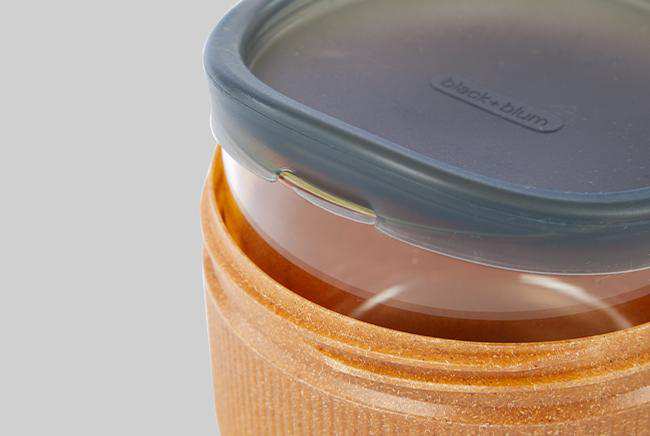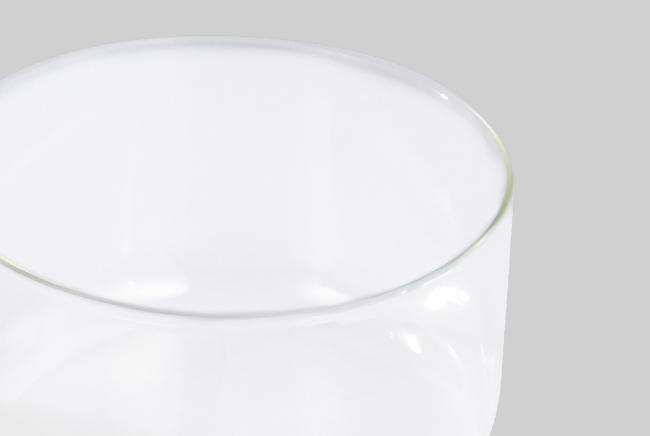 LIGHTWEIGHT & STRONG GLASS
The inner container is made from hand blown high quality Borosilicate glass that is lightweight, strong, recyclable and stain resistant.
SUSTAINABLE NON-SLIP BASE
The base is made from polypropylene and 30% sustainably sourced wood fibre (PEFC). It includes a silicone ring to help further protect the glass if dropped and stops the base from slipping/moving if on a vibrating surface like a train or airplane table.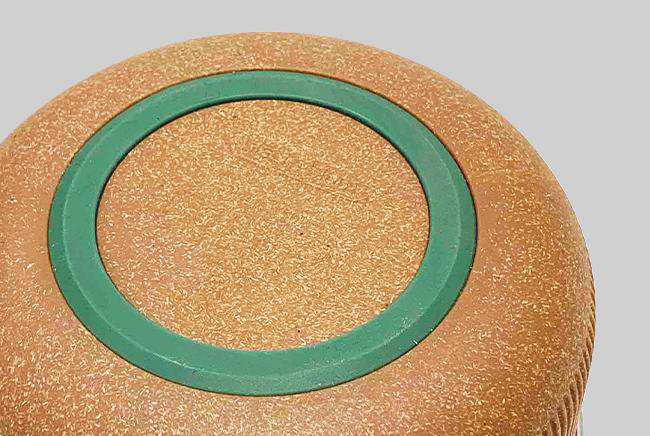 A WORD FROM THE DESIGNER
We wanted to create a glass lunch box that was better than others on the market. Previous to our design, other glass lunch boxes were not fully leakproof and too heavy to be used on-the-go. It took us nearly three years to develop this design and there were many different iterations along the way. Taking advantage of the light weight and strength of Borosilicate glass, we were able to create a better solution. The design is modern, but has an almost utilitarian retro appeal. Using Stainless Steel and the wood-fibre polymer base to protect the glass, is a lovely combination of materials. The end design is innovative and unique to the market. It offers a durable, functional solution that will age well and is perfect for carrying your food with you and for eating from.