HOMELY FEEL ON YOUR NEXT CAMPSITE!
The Cortes Octagon 8 provides a full 360° view of your surroundings. Ample living space and the ingenious hinged door gives it  a homely feel on the campsite. This spacious tent has a multitude of uses, it can be dressed as luxury glamping bedroom,  a playroom for the kids or a perfect tent for festival gatherings. The flysheet can be removed and the Octagon 8 transforms into a bug-proof screen room perfect for the garden. The tent comes with a wheeled carry bag and packs down compactly for easy transportation and storage.
Product Specifications
Capacity: 8 Persons
Rooms: none
Sleeping area: 15,7m²
Living area: -m²
Total area: 15,7m²
Set up: Inner first
Poles: Steel
Groundsheet: PE Integrated
Fabric: Polyester, PU coated
Seams: Taped seams
Carry bag (polyester): Included
Pack Size: 85 x 30 x 30cm
Weight: 20,7kg
Water column: 2000mm
WeatherTec™ – offering comfort and protection when enjoying the outdoors
A fabric's waterproof properties are measured using a rating called its hydrostatic head. If a tent has a hydrostatic head of 3000mm it means that a 3 metre column of water can be placed on its surface before any drops will show through the underside of the fabric. (The Ministry of Defence in the UK classifies fabric with a hydrostatic head of 800mm+ as waterproof). There are many other factors which influence the performance of tent in tough weather conditions. Coleman use the latest technology and a rigorous testing regime to ensure that we keep you protected at all times – whatever the weather.
HINGED DOOR – quick and easy to come and go
The patented Hinge Door from Coleman® makes it quick and easy to come and go from your tent. The rigid door and door frame increases the tents structural integrity making it feel more like a home away from home. Ideal for family and group camping, you can close the tent door without needing to zip it, making your tent and belongings more accessible without having everything on display or needing to continually use noisy zippers when coming or going.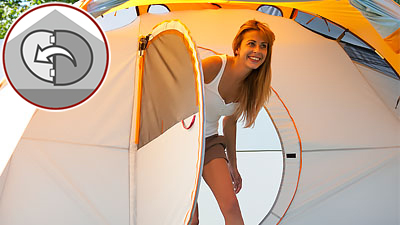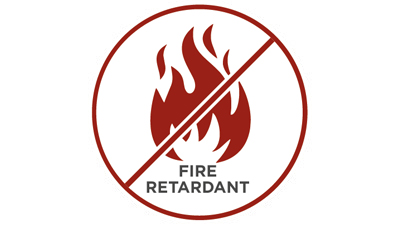 Fire Retardant – safety first
The fire retardant characteristic of our material ensures that the fabric will not flare dangerously out of control and will selfextinguish, giving time to escape in the event of an emergency.